Creating iOS-Apps is art  
Chances in App Development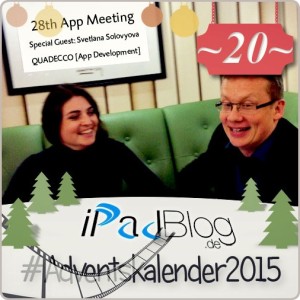 Welcome dear audience to the 28th App Meeting INTERNATIONAL in Kharkev, Ukraine that is set by the end of December 2015.  The very last show will comprises a firework of a new location set up far away from Germany, some news and the highlight presentation to our topic "App Development" – talking with CEO Svetlana Solovyova about app processes, economic aspects and being woman in this special tech field that is her pleasure. Also our future iOS-App is discussed with Quadecco in general.  
You were probably wondering why we switched (this time) to the english language and escape from Germany? There is no special reason but just to boarden the scope and offer a bit variety to you.
Great companies don't hire skilled people and motivate them, they hire already motivated people and inspire them. People are either motivated or they are not. Unless you give motivated people something to believe in, something bigger than their job to work toward, they will motivate themselves to find a new job and you'll be stuck with whoever's left.

Simon Sinek, Start with Why: How Great Leaders Inspire Everyone to Take Action
Having an own app is like having your own business card ready. At least in the digital field in which we are doing business.
Question to the audience: Have you ever thought about your own app? Did you ever follow your idea to fulfill it with an own app?
Welcome to the 28th App Meeting INTERNATIONAL – today from Kharkov, Ukraine
You'll find the video at the very bottom of our shownotes.
News Apple | Software & Hardware
Let's talk about… Interview with CEO of Quadecco, Mrs. Svetlana Solovyova
Some questions that matters:
Which devices you use in personal?

When did you noticed that you are interested in technology and mobile devices? Did it happen by accident that you established Quadecco or did you have a special event during your studies…?

Quadecco was established in 2008. One of your motto is, Success is a continuous journey! Travel with us! How works a typical inquiry by your clients regarding a new App? Is it like a journey?

What are the main reasons for coding abroad?

How is Quadecco managing the topic security and protection of the program code?

Many companies assume that the estimated costs abroad, especially in Ukraine are much more reasonable. You have two office seats: One in Kharkov and one in Munich. IS there a different price list or is that one of your main advantages of Quadecco, offering reasonable prices to the market?

Regarding the App topics of your clients. Do you notice a special trend or desired feature clients wish in their Apps? (Classical News Apps, Marketing Apps or even Games…)

How can we imagine a classical inquiry if somebody likes an own app?

How many people are working in one project?

Is Quadecco specialized in a certain topic? Which platforms are more required?

How is the trend from native Apps to hybrid Apps?

Why is it so attractive working from Germany with you on an IT project (collaboration)?

Are there any references that you like to mention? Any special App that you established and feel very proud of and like to recommend to our audience?

Back to you in personal: In your opinion. Is it easier as woman working in this IT environment or do you notice some difficulties?

Last question: What is your preferred SetUp or laceration to talk first time about an App project? (Skype, restaurant, conference room, …)
Curious about the answers? See the video on YouTube as well.
Discussion
Highlight Speaker – exclusive interview: Svetlana Solovyova  
App Development at Quadecco – that's why it is worth it!
Interview: See above question.
Further information
Video 28th App Meeting about App Development with Quadecco
Alle Videos findet ihr auch in unserer Mediengalerie zum iPadBlog GetTogether Stammtisch und könnt den Video RSS-Feed bei iTunes abonnieren Solltet Ihr uns noch nicht auf Twitter folgen, dann wird es höchste Zeit! Danke fürs Folgen. Es freut uns, wenn Ihr uns bei http://tweetranking.com unter #iPad #iphone, #mobile, #apple, #apps empfehlen würdet.